Best CLAT, NIFT, NID Entrance Tutorial at its core
We believe that that building aptitude is the real deal. Our mentors are not just effective test takers,
but are passionate educationists who will help you achieve your ultimate potential in CLAT, NIFT, NID Entrance exam
Best CLAT Coaching / Law Entrance Preparation
OPUS, the best CLAT coaching in the country, offers a variety of courses which will cater to your ultimate CLAT needs. Our ultimate purpose is to get you through CLAT with a top rank. An effective and advanced curriculum, best in class trainers/instructors and the latest tech integrated into the curriculum are just but a few of the course features. Our motivation lies in getting results, and that's exactly what we do best, i.e, get the top ranks in CLAT! You could try us out for free, and get started on your ultimate CLAT journey.
Also, try out a free CLAT Mock Test!
Top Fashion Design School Admission
Cracking the NIFT entrance is a breeze with OPUS. Our effective curriculum encompasses all the areas tested for the NIFT entrance and other design entrances. We have dedicated faculty catering to all the three areas tested:
a) General Ability Test
b) Creative Ability Test
c) Situation test
The most advanced curriculum developed by OPUS will ensure that your future is assured at the top NIFT's. Let's get cracking!
Leading Design Entrance Tutorial
Cracking the NID DAT exam is never a problem with OPUS' experiential Curriculum. If you want to get through NID, look no further! With the best NID coaching platform provided by OPUS, cracking the NID entrance becomes easy and fun. Each year, we get the highest number of NID admits from Kolkata, and this year will be no different. We're looking forward to helping you top the value chain! Get through NID with OPUS!
Join Opus – TOP CLAT, NIFT, NID Coaching Institute
Here you can review some statistics about our Education Center
CLAT COACHING IN ELGIN ROAD
The most advanced CLAT coaching with advanced prep material and testing. Performance analysis and personalized feedback.
CLAT COACHING IN SALT LAKE
The most advanced CLAT coaching with advanced prep material and testing. Performance analysis and personalized feedback.
CLAT COACHING - Long Term
Join our Long term CLAT Coaching program: an intensive curriculum designed to maximize your score and to get top NLU's
CLAT COACHING - Super Long Term
Your ultimate CLAT coaching program with a rigourous and comprehensive structure. Ideal for class 11 students
THE
OPUS

WAY – CLAT COACHING

CLAT coaching, as we see it, isn't just about a bunch of kids in NLU's teaching you how to ace a national level test. A good test taker isn't necessarily a great mentor! A great CLAT training centre is one where seasoned mentors guide you through the most advanced concepts in the simplest way. An effective CLAT coaching will provide you with an updated, advanced and extensive curriculum along with tools that will help you ace the CLAT. A top grade CLAT training centre will be one which invests heavily in technology to make the lives of kids sitting for the CLAT a breeze. The BEST CLAT COACHING CENTRE will hand hold you to the top rank in CLAT.
The OPUS CLAT tutorial program does just that and a lot more! Our CLAT Coaching mentors are seasoned professionals with decades of experience in coaching students to crack the CLAT. Case in point, OPUS sends the highest number of NLU admits from Kolkata alone. Our strength is in our alumni who are placed across all the top National Law Universities in the country! Register for a free CLAT Tutorial demo at any one of our CLAT coaching centres in Kolkata. You have to try us to experience the next level CLAT tutorial in the city!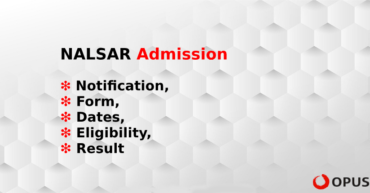 NALSAR Admission: Notification, Form, Dates, Eligibility, Result
NALSAR Admission 2019: Notification, Form, Dates, Eligibility, Fee, Result and Merit List | National academy of Legal Studies and Research University (NALSAR) is located in Telangana, Hyderabad. The university offers various Undergraduate (UG), Postgraduate (PG) and Doctoral programmes for aspiring candidates who want to pursue their career in the field of law. NALSAR Admission Date […]
NIFT Situation Test – NIFT Situation Test 2019
NIFT Situation Test is the final phase of the Entrance Examination. Upon clearing the written test, NIFT organises a Situation Test for the candidates who have applied for Bachelor of Design Programme. The primary reason for conducting the Situation Test is to check the innovation abilities of a candidate. The Situation Test is conducted for [...]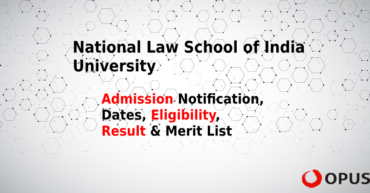 NLS Admission Notification, Form, Eligibility, Result & Merit List
National Law School of India University is one of the most prestigious law universities that offers various undergraduate, postgraduate and research courses on legal education. NLS Admission Date 2019: The West Bengal National Law School of India University, a public state university of Kolkata, West Bengal conducts admission every year in the month of June. […]
Register for a
Call Back
Get an
OPUS
Experience today!

Best CLAT Coaching, NIFT Tutorial, NID Training Centre.
Register for our free demo classes now
for our top CLAT Coaching, NIFT Entrance, NID Institute
Entrance preparation courses.
Hurry! Don't be late to start your course.
STAY TUNED

WITH US

Subscribe now and receive weekly newsletter with educational materials on CLAT, NIFT, NID entrance institute, new courses, training centre, regular calsses, interesting posts, popular books and much more!